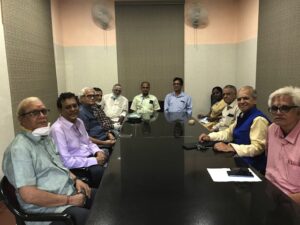 The 1970 batch of P S High School in Mylapore will formally celebrate the alumni's golden jubilee year on March 20.
Says S. Easwaran, co-ordinator of this group, "Actually we were supposed to celebrate it last year . Because of this pandemic we could not do that. So we are doing now at the school at the Centenary hall."
But the core group strove to search for and connect with as many 'old' students to enlarge the group. Some 60 old boys connected.
They contributed to set up the computer lab for the school as their main project ( photo used here is of a past meeting of the alumni).
The March 20 event will be a formal one to signal the jubilee of this group.
Contact – Easwaran – 24935116 / 9444424295