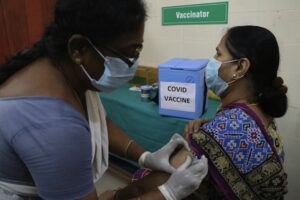 A dipstick and informal survey done in four kuppams of San Thome and Pattinapakkam shows that almost nobody was keen to be vaccinated with the vaccine.
This survey was done by social worker and MT edit trainee Kavitha Benni.
32 people, six men  and the rest women were questioned over the last weekend.
Many said they were aware of the vaccination but did not know where it was given locally; many said they would not take it and many said that they had not suffered from Corona.
Many reasons were given as to why they do not want to get vaccinated –
I am well so I don't need it
I was ill before and I wll take it if I fall ill again
The salty air protects us so we don't need it
I am afraid of consequences.
People who were not questioned but chose to converse on ths theme said they had not come across a vaccination awareness drive locally, others said they knew of the PHC in Mandaveli but not of the San Thome PHC in Appu Street.
A few others ( below 50 years) of this area generally said that they heard that those who took the jab had pain and soreness for some days and this would discourage them when their turn came.
File photo used here
Report by Kavitha Benni