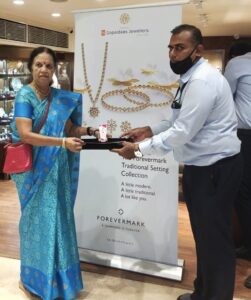 Radha Srinivasan,  73 years old and president of Sai Women's Club  Mylapore was recently presented awards for Women's Day.
One award came from Gopaldas Jewellery on  TTK Road where she was chosen as Diamond Queen ( seen in the photo here) and the other award from G. K. Shetty Vidyalaya where she was crowned as Mangayaril Manikkam.
Radha Srinivasan resides on 2nd Link Street, C.I.T. Colony.
– Report by Kalyani Muralidharan.