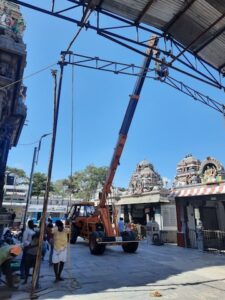 Preparations have already begun ahead of the 2021 Panguni Brahmotsavam that is scheduled to start March 19 at the Sri Kapaleeswarar temple.
This year's utsavam(2021) will see the back of full fledged vahana street processions unlike the current utsavam (2020 Brahmotsavam) with is taking place inside the temple on a smaller scale.
A huge overhead temporary roof is going up at the eastern entrance in front of the Thiru Kalyana mandapam.
Contract personnel from Tiruvannamalai have been hired for the installation here and inside the temple.
They expect the entire work to be completed in the next few days.
– Report by S Prabhu