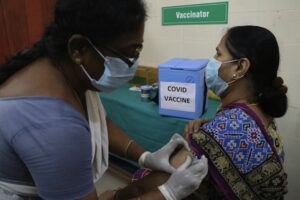 Though Chennai Corporation is one of the bodies to promote the anti vaccIne jab in a big way, the nature of its roll out on March 1 does not reflect the urgency in its plans.
As of now, Mylaporeans eligible to take the jab ( seniors and 45 years plus aged who have co morbidities) can take the jab free of cost only at the GCC Heath Centre on Begun Street in Mirsahibpet, in Royapettah.
A GCC senior officer-doctor said that since that centre alone now had all the services required, it would offer the jab.
But in one hour's time on March 1, only two people took the jab at this centre. The nursing staff here said that inadequate knowledge of the facility and service may be the reason for the slow reaction from the public.
None of the Health Centres smaller in nature that exist in the the Mylapore zone is now fitted to provide the jab. Even the one on Appu Mudali Street where some weeks ago, a dry run was conducted.
Some Mylaporeans say that asking seniors to travel far away from home to get the jab is not encouraging news.