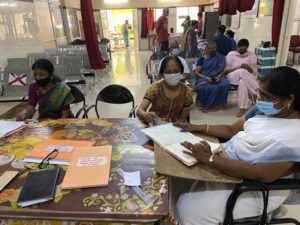 Getting the vaccine jab on the spot at the Urban Health Centres of Chennai Corporation is also a smooth process.
But since each centre gets a certain supply of the vaccine, there are days when the process gets over, hours after it starts at 9 a.m.on a day.
Which means, the early birds who walk in are assured of the jab; this far, a centre like the one located off C P Ramaswamy Road ( near Winners Bakery) has not seen a big crowd  this far here by 10 a.m.
A nurse here says the vaccine is delivered daily by 8.30 a.m. and can vary from 60 to 1oo doses for a centre.
Says 'Arkay' Ramakrishnan of Luz who took the first jab at a UHC of San Thome zone, "This place is fairly good and reasonably well managed. In fact I had booked for the Covaxin at CSI Kalyani hospital but when I went this morning found a large crowd and the verification was going on: plus all were waiting for the vaccine to arrive, so I moved on."
People from various quarters are here – from apartments, bungalows, Housing Board campuses and even from the slums.
For seniors, with identity cards only.