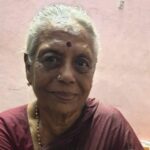 Meena Sambamurthy, aged 84, passed away on March 3,2021.
She was the wife of K. Samba Murthy and a resident of Mylapore for more than 35 years.
She was a retired employee of the Department of Telecommunications.
She is survived by her sons S. Krishnamurthy, S. Subramaniam and S Hariharan, daughters-in–laws and grandchildren.
The family can be reached at 044-48656548.
– Report by Ganesh Natarajan