K. Venugopal and S. Surendranath were colleagues once upon a time in a corporate firm but now they are walking mates. The duo ( seen in the second photo) used to catch up every morning at the Nageswara Rao Park in Luz.
This morning, like all other public parks, the gates of this park were thrown open at 6 a.m. and the duo were glad to see each other here.
They said they had been missing the serene atmosphere at the park after it was closed in the fourth week of April.
As they did the rounds of the park,  Surendranath's touched on his work experience at the Mettur Plant, near Salem, where he was once working.
Venugopal, a resident of Mandaveli, has been a regular at the park for 27years. He says that while he did walk on the roads as part of his fitness regime in May and the first fortnight of June, there is a comfort factor inside the park.
In the past, he says he used to do six rounds but now he has cut it down by half. "After one or two rounds, we sit for a few minutes, relax a bit and start our walk again. This morning, being day one, we walked for about 25 minutes. We hope to gradually increase our walk time."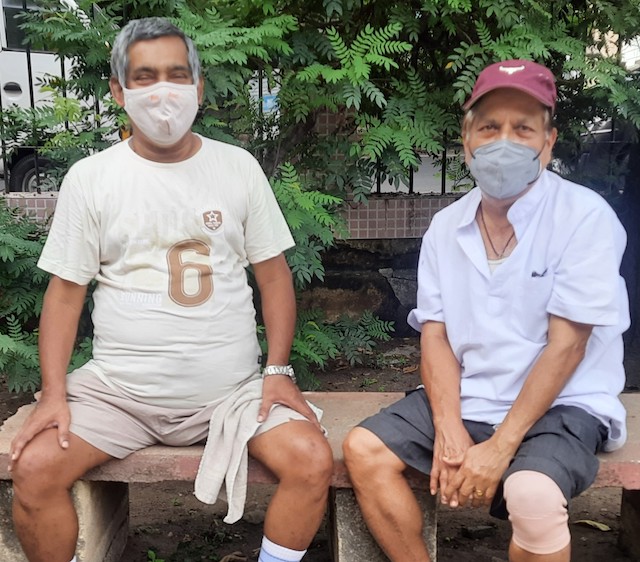 Surendranath, who stays close to the park – on Ramachandra Road, too has been a walker at the Nageswara Rao Park for over two decades.
He says that this morning routine also offers him an opportunity to catch up with friends "We usually discuss public affairs and the state of the economy. A visit to the park helps me catch up with old acquaintances. We have a lot of common friends here at this park."
Monday morning saw many regulars back at the park for their morning walk.
In the sandy space at the rear of the park, a silambam coaching group was warming up.
Sundaram Finance has been maintaining the Nageswara Rao Park for close to two decades. As per the current restrictions, the park will be open for walkers only from 6am to 9am.
Report and photos by S. Prabhu