Tucked away on crowded Adam Street in Mylapore, the CSI Middle School – now freshly painted a bright fuchsia – is impossible to miss.
"I want the school to stand out in this area, and attract children," says the Headmistress M. Ranjitham, who along with her small band of teachers, put their heart and soul into collecting funds for the renovation of this 127-year-old school and keep it going.
The result is a newly renovated building, with attractive classrooms painted in bright pink, purple and yellow, awaiting children once the pandemic ends.
Founded in 1894 in this very same spot as a primary school by the Wesleyan Mission, to educate girls from the Devadasi community, the building is sandwiched between the agraharams of Mylapore ( this background has been handed over some generations).
The school later started admitting boys too, from Standards 1 to 5 and was upgraded to a middle school in 1988, with classes up to standard 8.
Thamizh remains the medium of instruction, and numerous underprivileged children in this area have benefited. The building was renovated in 2004 with support from three Churches of the Church of South India.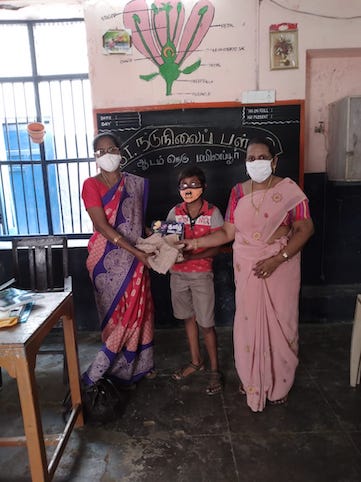 The school still relies on the generosity of individuals and corporates. Various organisations like the Rotary Club – Chennai East, churches and alumni of the school have come to its aid at various times.
"We now need to fix the old roof, which leaks when it rains" says the Headmistress, explaining the work involved – estimated at four lakhs.
Those interested in contributing towards this noble cause can contact the Headmistress M. Ranjitham at 9789855818.