The Chennai Corporation campaign, planned to align with that for the state, for a massive vaccination coverage did not evoke a great response in the Mylapore zone going by what took place on the ground on Sunday morning.
Be it across Alwarpet or Mylapore, Mandaveli or Pattinapakkam, though there were venues to get the jab in located in every colony – using spaces in schools, community halls and the like – and these venues were well-staffed, there were just 5 or 10 people inside at some, lesser at others.
People trickled in at some venues.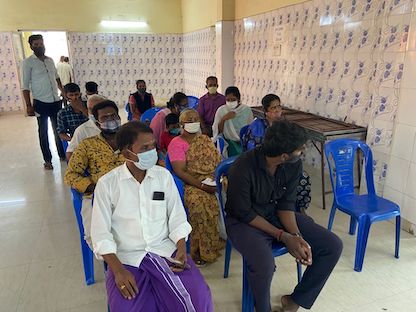 At a community hall in Srinivasapuram, a congested area located off the seaside, though local area health workers said a good number of people are yet to take the jab, at least the second one, there were few people at the venue this morning.
One resident here claimed that most people have already taken both doses. Similar was the response in another area of Mylapore.
Photos mu Madhan Kumar show the scenes at the camps at a Chennai School on St Mary's Road and at a private wedding hall in R A Puram