Vijayadasami day last weekend, for teachers of music, dance and the arts was so different from what it was last year. All due to the ease of pandemic situation.
And so, many teachers welcomes a good number of their young students to the puja and symbolic start of classes on that auspicious day.
Dancer and teacher Jayanthi Srivatsan who teaches dance at the Oppilal School based in Abiramapuram was happy to put her young wards through Bharatanatyam. ( first photo)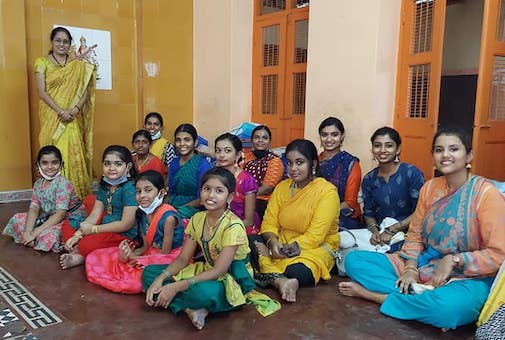 Elsewhere in Mylapore, teacher Padma Raghavan, who runs Silambam dance academy, in the steps of her guru Sudharani Raghupathy, was also glad to have her space abuzz. ( second photo)
Said she, "Unlike last year's online Vijayadasami, this year's pooja and dancing was so motivating and inspiring. This day began well with meeting my guru and receiving her blessings in the morning. Evening was dasami pooja time with my girls and my Silambam family.
At guru Sudharani Raghupathy's home off Luz Church Road, all her senior students, now artistes and teachers who were in town met up to receive her blessings. ( 3rd photo)