How do you allot housing to a community where over 50% residing in campuses of state-built tenements have encroached on pathways and spaces in these campuses and are now promised shelter in new blocks?
This is the biggest challenge that is facing senior officers of the TN Urban Habitat Development Board working on a slew of projects in Mylapore. And trying to cool tempers and arrive at some agreement is the local MLA.
It is said that there are some 24 campuses in the Mylapore constituency where TN Slum Clearance Board developed small housing for the poor. Perhaps, the largest community in the core of the city.
Almost all the tenements are coming apart; in some places, roofs or window sills have crashed, in some layers of walls are peeling off.
Residents have mostly chosen to do up the interiors and bypass the exteriors and the Board, only now has created a mechanism for setting up community associations to handle civic maintenance.
In some campuses, redevelopment work has been steady – mostly in the Marina kuppams zone. The Mylapore MLA says 70% of 200 Doomingkuppam residents have moved into the new flats recently.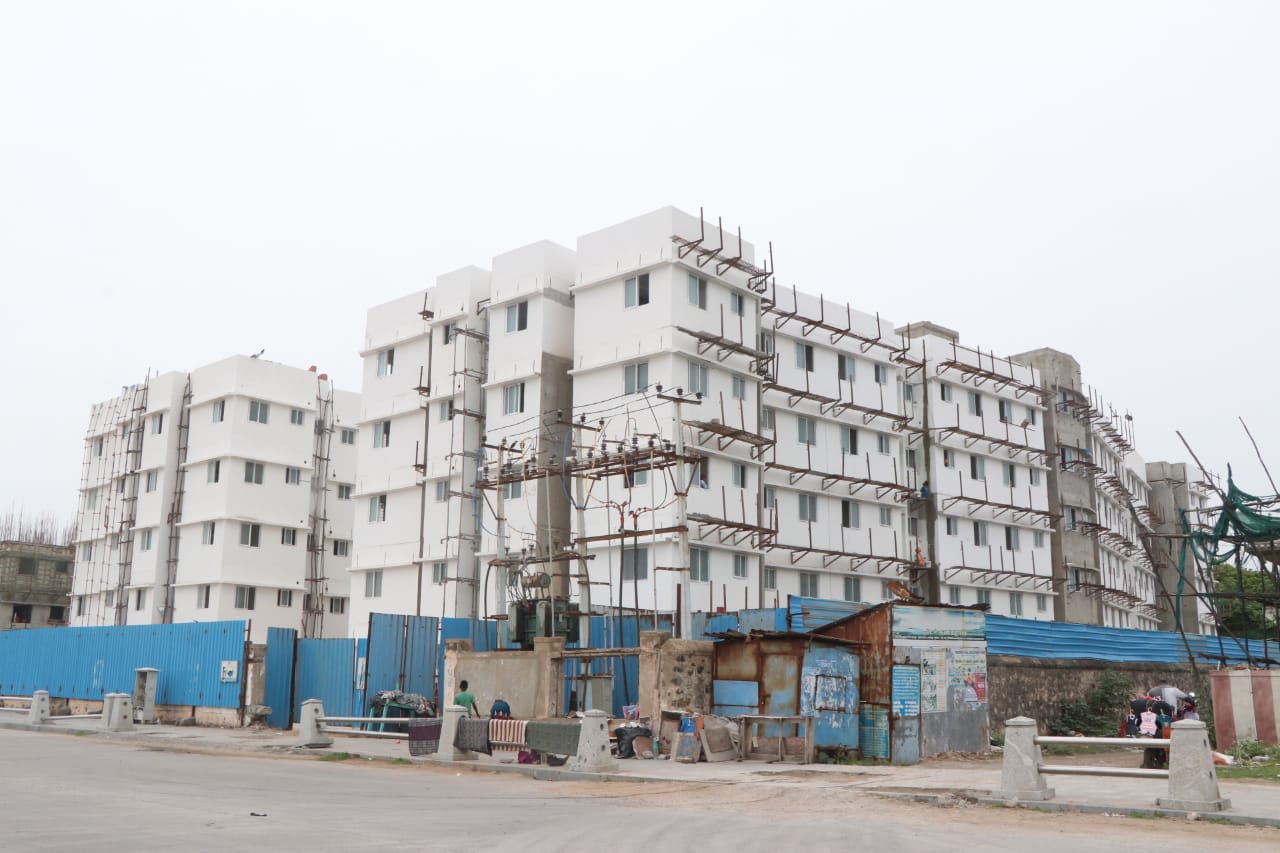 The next step is to allot 214 flats to families who were badly affected by the tsunami. "Clearing their papers is taking time," says the MLA.
In Rajiv Gandhi kuppam and in Srinivasapuram, surveys are on. "We find that there are more huts that have encroached on government land than the legal residents here and since we have promised housing to all, accommodating them is a challenge now."
To accommodate all, high-rise blocks must be built in the redeveloped land parcel. Perhaps 10 / 12 storeys with designs that provide access to 3/4 lifts across the corridor on each floor. Some residents have objected to this plan, saying access to get down will be hampered when lifts fail or power breaks down.
Says Dha. Velu, the MLA, "We are showing residents the Board's plans to accommodate all and if they have objections, we ask the community leaders to debate and revert to us. There is no other go."
This issue has delayed work in many places like Kapali Thottam.
Work is on at Visalatchi Thottam, Vaniyampathi Thotam and Valleeswaran Thotam but, according to the MLA construction is delayed due to
pandemic. One resident who has been alloted a flat in R. A. Puram says the work which got off well is now painfully slow. And he admits that the community is not putting its head together to decide on maintenance, garbage disposal and such issues.
In Kuyil Thottam, off San Thome High Road people have started vacating their premises after agreeing to our proposals, the MLA says.
Projects have also been outlined in Pallakkumaniyam Nagar, Pillaiyarkoil Thottam, Sathyavani Muthu Nagar, Nattan Thotam Mosque Street, Kuppai Medu and Adiman Thottam.