The annual feast of saint Lazarus was celebrated in Our Lady of Guidance Church at R. A. Puram in a toned down manner. .The feast this year was a two-day affair.
Said parish priest Fr. Bosco "This is the 440th year of the feast celebration. The church was built in the year 1582 and is one of the oldest churches in the city"'
The feast day Holy Mass, held on January 20  was celebrated by six priests with the main celebrant being Fr. J. Kumar, Director of Pastoral Centre. The homily was delivered by Fr. Antony Sebastian, Director of JD Academy of Excellence which prepares youths for the civil services examinations.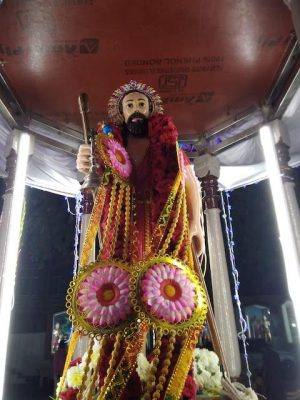 After the Mass, a car procession was taken around the streets surrounding the church. Four statues were taken out instead of the usual nine. The statues of St. Michael the Archangel, St. George popularly called Sandiagappar, saint Lazar,  patron saint of the parish and Mother Mary were taken out in procession.
After the procession, the flag was lowered and taken for a procession within the church campus. The service culminated at 9 p.m after the eucharistic adoration.
Fr. Bosco said that stalls were not permitted on the main road this year due to the pandemic regulations in force. In normal times
This feast, with its long and colourful history carries different memories for many generations.
A former parishioner Tony Louis who belonged to this parish from 1937 to 1969 and is in the USA now, says he used to take part in the long procession along with his parents and siblings.
Tony Louis said that Our Lady of Guidance Church is the only parish that takes out nine statues in a procession.
Parishioner F. J. Vincent says in the 1950s and 60s, families would travel even by carts from places like Little Mount and Royapettah, pitch tents in open spaces around the church, take part in the car procession that ended after midnight and attend the feast Mass on Sunday and then get back home.
"This used to be one of the key church feasts that many Catholics of the city made sure to attend," says Vincent, who once served on the Trust that managed the festival.
– Report by Juliana Sridhar. Photo by Sridhar