Wednesday was perhaps the highpoint of the annual Panguni festival of Sri Kapaleeswarar Temple as thousands of people, many from outside Mylapore took part in the procession of the saints, the arabathumoovar procession through the mada streets.
The weather was a bit sultry as summer sets in now in the city but that did not deter people from heading to the temple zone. The procession started after 3 p.m. and was orderly, following the traditional pattern of this day.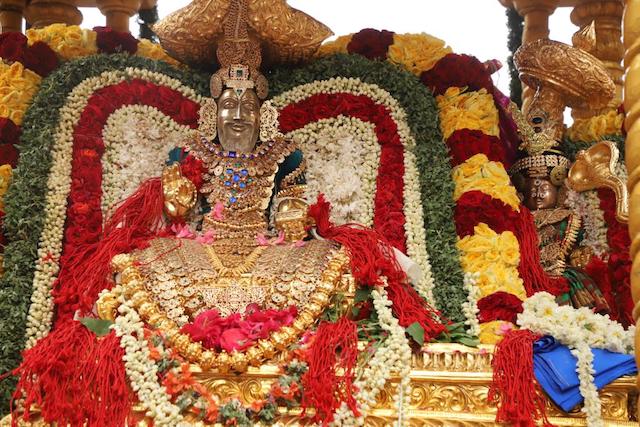 Processions carrying the gods from nearby temples joined in, as is the tradition. This included the palaquin carrying a grandly adorned saint Thiruvalluvar, which came here from the other side of Kutchery Road where a temple is dedicated to him – this practice has been a part of this Panguni tradition since the early 1900s, we are told.
As the evening became pleasant, more people streamed into the temple zone to catch a glimpse of the procession. There was an air of festivity and religious fervour all around.
Groups of people offered snacks or food from a few stalls set up off the streets, this went on as late as 7 p.m.