It is a rare occasion in the year when lord Perumal, as part of a Brahmotsavam, goes into the inner streets of Mylapore well past midnight. It was the fifth evening of the Panguni Brahmotsavam at Sri Venkatesa Perumal temple in Mari Chetty Street, Mandaveli and the most eagerly awaited vahana of the ten day annual festival.
Sporting a large glittering Pathakam and a silky vastram, Garuda was all set at 10pm on Friday to carry Venkatesa Perumal on a long four hour procession.
Fire crackers signaled the start of the procession on Mari Chetty Street with around a 100 devotees presenting a devotional cheer even as Venkatesa Perumal left the temple. It was a celebratory night around the streets of Mandaveli and Mylapore as devotees gathered in good numbers to welcome the Lord in front of their homes. All  the streets were dotted with colourful kolams and residents were all excited at the prospect of their large and differentiated drawings featuring on You Tube.
The nagaswaram artistes were just as colourfully clad as the Lord as they led the procession with a devotional rendering.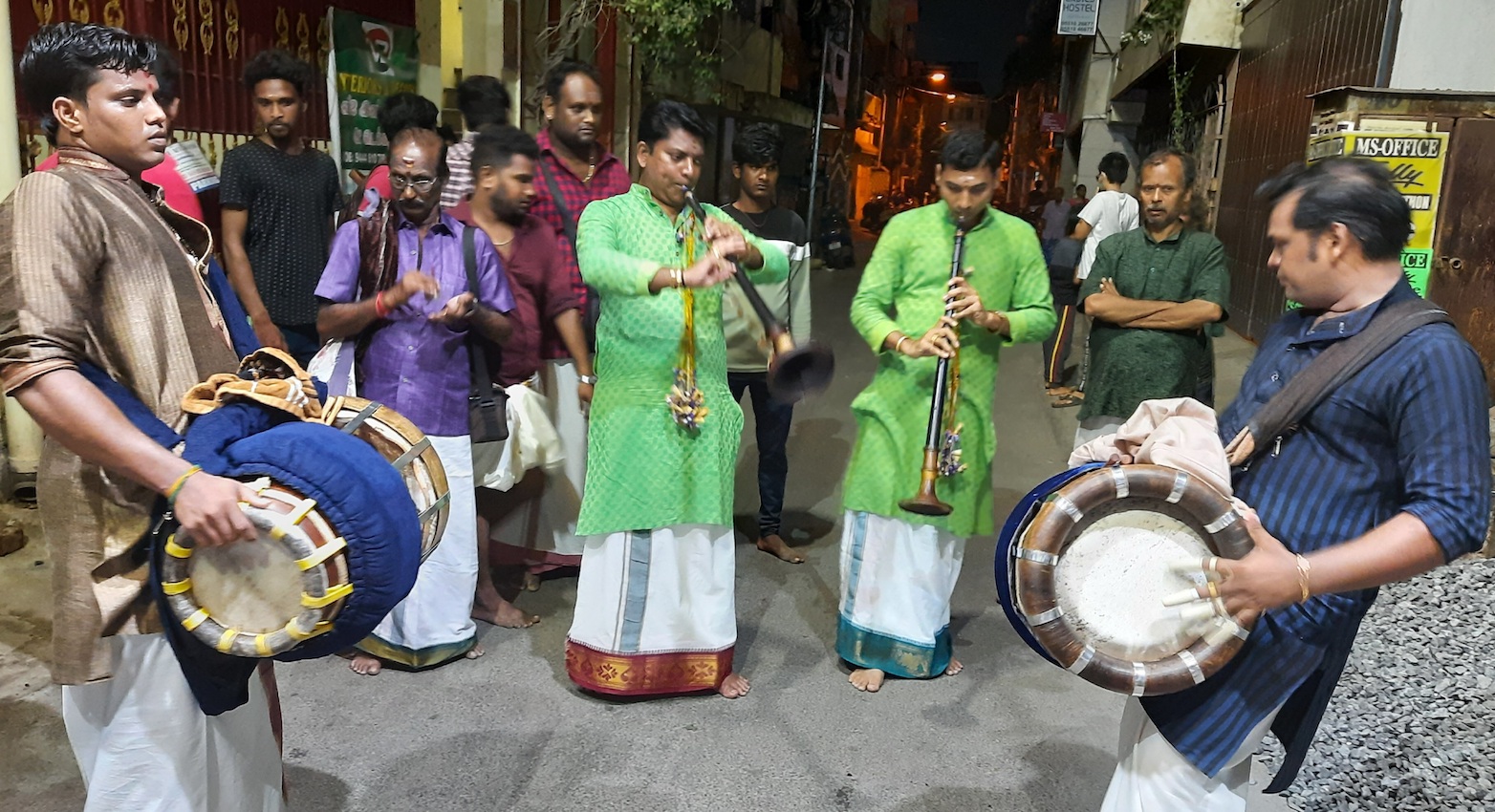 It was past midnight when Venkatesa Perumal made his way on to the R K Mutt Road from Sadayappan street. Surprisingly, young children were up and awake to have Garuda Sevai darshan.  Parents showed them the posture of Garuda carrying Venkatesa Perumal by his two hands. Many of the devotees also took a close look at the beautiful decoration of both Venkatesa Perumal and Garuda even as Krishna's favourite songs were played out by the artistes.
As the clock sounded the 1 am hour, a few more rockets alerted the residents of VC Garden Street to the arrival of Venkatesa Perumal on the big Garuda Sevai night.
While Sri Kapaleeswarar goes around the four Mada Streets on an all through the night Rishabha Vahana procession as part of the Panguni Utsavam, this was a one of its kind late night procession that saw Venkatesa Perumal provide darshan in the interior streets of Mandaveli and Mylapore much to the delight of the devotees.
Report, photos by S. Prabhu