What is a college? What does it look like?
Questions that a group of senior citizens residing in the kuppam colonies located off the Marina beach and who have hardly attended school, posed at a recent meeting they had at the daycare centre in this area that a NGO runs.
Dignity Foundation, based in Anna Nagar has been running this centre since 2020; it is meant for senior citizens of the colonies that line Marina Loop Road on the seaside of San Thome.
At this centre, adjoining a temple women and a few men ( there are some 80 members ) spend a few hours, engaged in learning some skills, in story-telling session and and interacting with guest speakers.
On April 30, the staff of Dignity collaborated with the NSS department of Stella Maris College to provide the seniors with 'experiential learning tour' at this college on Cathedral Road.
The college student-volunteers took the visitors around the college campus and showed them the library, a few classrooms and a laboratory. This was followed by interaction between the NSS members and the seniors.
Says Felista Jose, head of Dignity's Chennai chapter, "Our daycare centre members were simply overjoyed at being able to be inside a college and the experience they had here."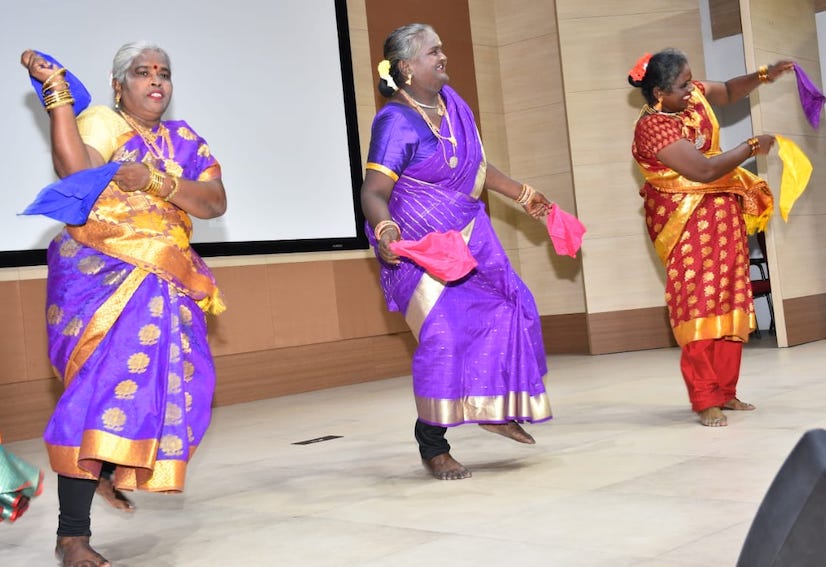 The seniors entertained the students with a performance of Tamil folk dances as well as a ramp walk displaying various costumes.
Adds Felista, "The Stella Maris students were amazed by the show the elderly put up in the college auditorium. They gave them a big applause."