They call him Moinu. Or London Tailors. The customers of his who have known him for ages.
M. Khaja Moinuddin is his full name. He runs London Tailors in Oxford Arcade, in the basement of the shopping complex close to Vivek's in Luz.
Moinu and his team of six have been working their electric sewing machines for 24 hours mostly, through the past 4 weeks. School uniforms season, you see. And Moinu is the go-to man in this part of Mylapore.
He says he has just landed an order for some 700 uniforms from a local school. "It came in late through a store that sells the cloth but we don't say no!", says the senior tailor who was born in Mannady in North Chennai and resides there.
"The work is seasonal . . .ends by July and then there's other stuff to do," he adds.
Blouses and gowns for weddings, salwar kameez sets, trousers for men.
Khaja Moinuddin got to be known as 'London Tailors because he was the lead tailor for the famed London Stores in this city. When readymades became popular and tailoring orders dropped, he chose to undertake orders and work from home till he got this shop space in Luz. In 1997.
"We stitch for students of many Mylapore schools," he says. " People have to give us the cloth and we know the designs."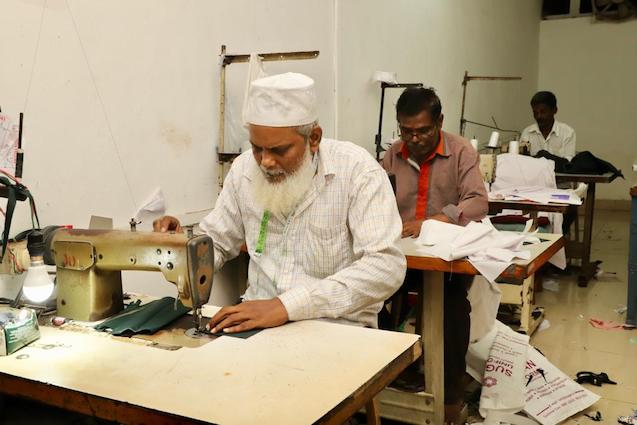 Yes, he knew his 'brother' tailor who ran the famed Eros Tailors in Shanthi Vihar complex and shifted to the arcade recently and has now closed down the business. The man whom legion of Rosary Matric students knew so well.
(Read the story on Eros tailor here)
So why is there a big rush for school uniforms even in July?
"Because people didn't stitch uniforms for two years due to the pandemic lockdown! Now they all want new uniforms," Moinu says.
The shop is open 10 am to 10 pm. Call 80560 55316 / 93821 75459.