Archbishop Rev. Dr. George Antonysamy led priests, nuns and the laity in a symbolic meeting on August 10 morning at the San Thome Cathedral campus, observing Dhukkam Naal ( Day of Grief), an annual observance that marks the removal of Dalit Christians from the constitutional provision that provides benefits Scheduled Caste minorities by the first president of India, Rajendra Prasad.
This meeting was part of the all-India observance.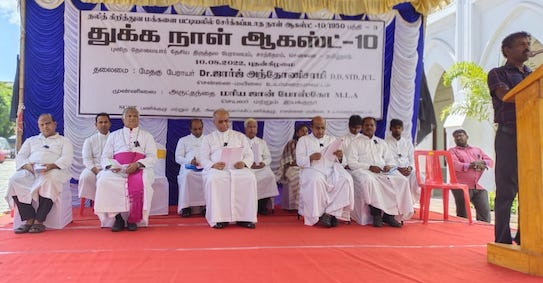 Fr. Arulraj, senior parish priest at the Cathedral says that Rev. Antonysamy asked various Dalit Christian groups and Christians to unite in order to make their case strong and then work with like-minded people outside the community.
Black flags were hung all around the campus and the laity carried placards seeking a constitutional amendment that must treat Dalit Christians as a SC community so that special benefits of the state flow to them too.
Today, Dalit Christians are not on the list and hence lose the benefits though detractors say that the converts move up in life when they join the Church.