Common friends of India's table tennis coach and former national champ S. Raman had him over for dinner at a private club in R. A. Puram – Raman driving straight in from the airport after the long flight from Birmingham.
His wife Bhuvana, also a former national champion joined the friends for a surprise gathering.
Raman used to reside in Mandaveli and has a long association with San Thome Hr Sec School.
The Indian TT  team won three golds and 2 other medals.
" It was a nice gesture from Raman and Bhuvana to join friends even as home was waiting," said colleague C. R. Balaji.
Others at the dinner meet were Gopal, San Thome school topper, who is now in Doha at KPMG and Thulasidharan former San Thome school cricket team captain and a chartered accountant now and Chandru, who is head of operations for CSB Bank and part of the senior leadership team.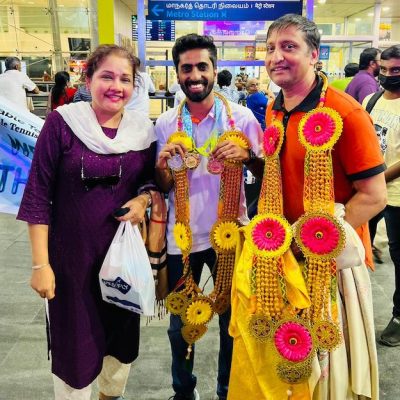 Under Thulasidharan's captaincy, San Thome school team won almost all the titles offered by TNCA in that time and also won the All India Thums Up Trophy for senior school teams.
Earlier, Varshini, Gopal's wife welcomed the TT Team at the airport.
Report based on C R Balaji's inputs and photos.