On Sunday afternoon, TN state chief secretary Irai Anbu visited the east end of Dr. Ranga Road for an inspection of the storm water drains work.
As reported in Mylapore Times on Sunday evening (https://www.mylaporetimes.com/2022/10/state-chief-secretary-inspects-civic-work-in-mylapore-for-monsoon-preparedness/), he had told the team here to speed up work and finish it ahead of the monsoon.
This seems to have had an immediate bearing as workers were seen working extra hours on Monday night.
Two workers, one from Andhra and another one from West Bengal, were slogging it out at Dr. Ranga Road – Warren Road intersection that has been a nightmare for road users over the last month.
In fact, this newspaper had reported an incident of a two wheeler rider falling into the open pit a fortnight ago (https://www.mylaporetimes.com/2022/09/two-wheeler-rider-falls-into-pit-created-for-drains-work-at-dr-ranga-road-end/).
Just after 11pm on Monday, a concrete mixer machine-lorry arrived at the junction.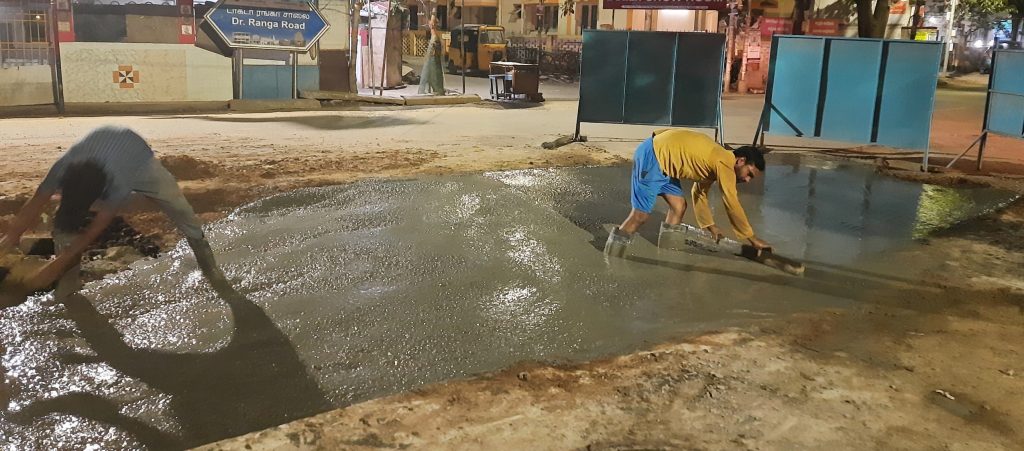 The two workers told Mylapore Times late on Monday night that road users will be in for a surprise on Tuesday morning as the intersection will be open both ways for traffic.
Report and photos: S. Prabhu