As work on Chennai Metro's rail line in the Mylapore – Mandaveli – R. A. Puram zones gets hectic, movement of vehicles in these zones is getting affected. So if you use these zone to travel to work or for personal reasons, you may want to be cautious.
For example, traffic from the Adyar side into R. K. Mutt Road, beyond the Adyar river section is slowing down or in a jam during peak hours because the work area at what was the GCC playground off KVB Gardens has expanded a bit on to the road and barricaded.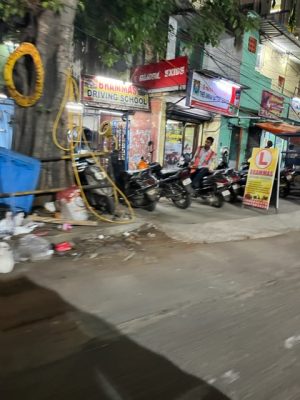 Though the pavement section here has been cropped to allow better traffic movement, vehicles can move very slowly over a 200 mts section here.
Also, the pavement here is fully encroached by shops and used as two-wheeler parking so pedestrians are forced to walk on the busy road. ( photo No.2)
Traffic Police in this zone need to clear all encroachments here in view of the conditions caused by the Metro work, said one motorists who uses this road often daily.