Even as the Indian Premier League ( IPL) moved into its final week of Season 2023, a Mylapore Premier League ended at the playground alongside P. S. School campus here in Mylapore. The winning team called itself Gujarat Titans.
Played over the weekend, featuring eight local teams consisting of some 120-plus players, all Mylaporeans, this was the second edition of the League and the winner took home a big cup and cash prize of Rs.35,000.
To pack the whole tourney into a weekend, this was a seven-overs a side challenge, hence T7.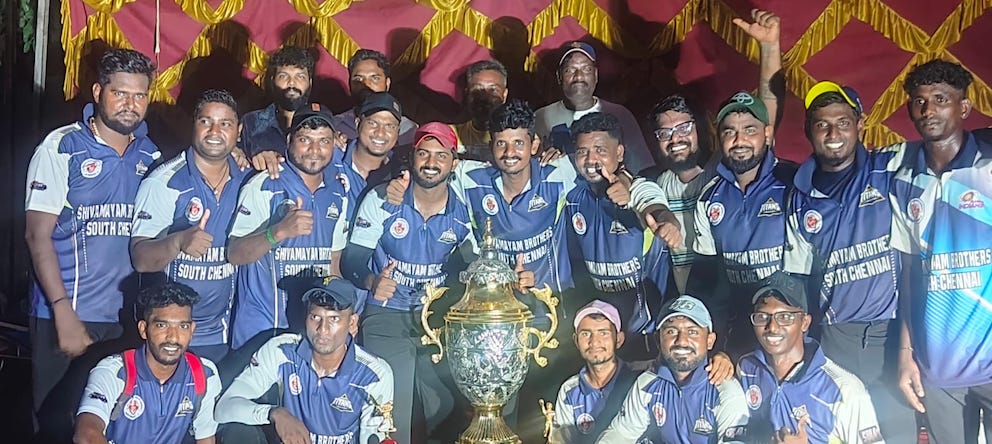 "We are happy that everybody enjoyed the league.   matches and fans turned up to watch the games," said S. Vignesh, one of the five hosts of this league who resides in CIT Colony and works for a bank. "Had we got some more sponsorship we could have offered lunch to the players."
Local, IPL-like cricket tourneys are being organised events in a few city neighbourhoods following the huge popularity of IPL, and Vignesh and his organiser-colleagues – Rathinam, Vijaykumar, Mani and Aravindan – seem confident of staging this league in Mylapore annually.
Photo below is of Vignesh, Rathinam, Vijaykumar, Mani; the organisers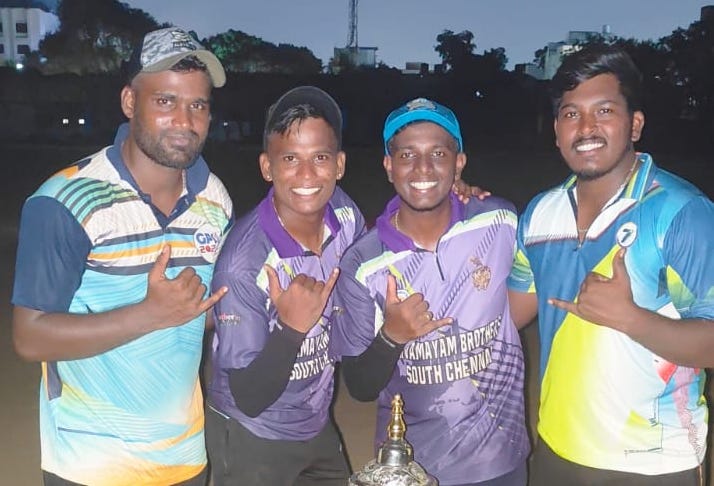 The budget is big.  Close to Rs.3 lakhs. Funds flow from local retail stores and well-wishers.
Vignesh says that there are over 300 youths in Mylapore zone who play tennis-ball cricket, week in and week out. Their haunts – four playgrounds in this zone though one was taken over for Chennai Metro project. Many belong to clubs that are play under a name; some even have their own logos and clothes. So sourcing players is easy.
Photo below is of Aravindan, one of the organisers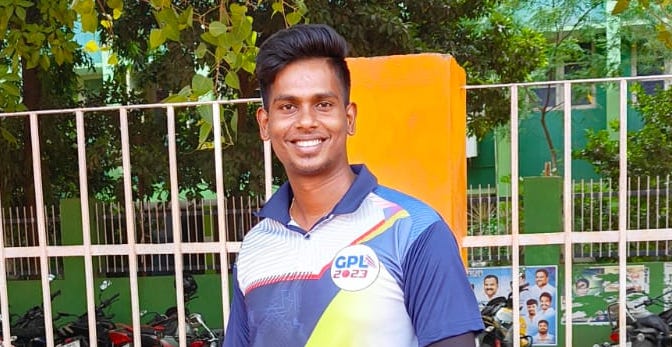 Neither is there a dearth of signing up team 'owners' who not only choose the best players from a simple bidding process from three pools but also pay anywhere between Rs.25,000 to Rs.35,000 to 'buy' a team, the money going to the organiser.
Says Vignesh, "Each team will have new players and the challenge is for each person to train as a new team and excel."
Vignesh and team rented the playground from the HR&CE Department, which is in possession of the space but has not progressed on the state minister's promise of developing a new ground.
"We could use only part of the ground because wild vegetation has grown at the far end," says Rathinam, another organiser who lives in Abiramapuram and works for a healthcare data firm.
This year, a group even web-cast the matches live on a YouTube channel. "There are boys who couldn't be at the ground and wanted to watch," says Rathinam.
Five months goes into the planning and execution of this tourney. Says Vignesh, "Mylapore has always had lots of cricket players playing tennis- ball cricket and passionate about it and that was why we launched the league."