Aavin's Mylapore zonal office records highest sales in Chennai South region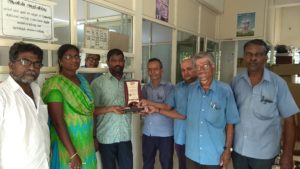 Aavin's Mylapore zonal office at C.P. Ramaswamy Road, Alwarpet has recorded the highest sales in Chennai South region during the year 2018 -19.
The zonal office has generated 33,000 milk cardholders in Mylapore – the highest among all the 9 zones of Aavin in Chennai South region. Hence, it has received the Best Zone Award for its performance in sales.
T. Agila, Deputy Manager of Mylapore Zonal Office received this award from Tamil Nadu Dairy Development Minister K.T. Rajendra Balaji on June 1, during the occasion of World Milk Day celebrations, held at Aavin Head Office in Nandanam.
Agila says, "To increase the number of milk card holders, we conducted many door-to-door campaigns and distributed pamphlets to inform people about our products. We also gave prizes to regular customers at each depot."
"Many customers prefer toned and standardised milk," says Raghuraman, a milk card booking superintendent at this office.
Two customers, Jayanti and Sudha at the local Aavin parlour, located below the office were delighted to hear this news. Sudha said, "We buy Aavin products because of its quality, taste and affordability. It has been a reliable choice of milk for our family for three generations."
This entry was posted on Thursday, June 6th, 2019 and is filed under
News
,
Sales, Shopping
,
Shopping, Stores
. You can follow any responses to this entry through the
RSS 2.0
feed. You can skip to the end and leave a response. Pinging is currently not allowed.