TANGEDCO plans for power needs next summer: higher capacity transformers fixed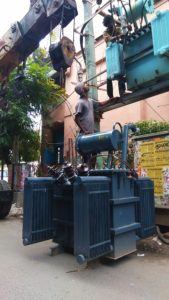 To prevent power overload at transformers and the resulting power cut in summer, TANGEDCO officials are fixing higher capacity transformers in Mylapore.
On Nov. 26 evening, workers from Mandaveli sub-station were seen replacing a higher capacity transformer at Nadu Street. The AE of Mandaveli sub-station said, "We are replacing the 100 KVA (kilo-volt-ampere) distribution transformer present here with a transformer that has a capacity of 250 KVA."
This is carried out to prevent frequent power overload in summer, he says. "Now, if a cable fault occurs in this zone, the power from this transformer can be used to temporarily restore electricity in that area."
Similar work has been carried out at Srinivasan Street in Mandaveli, he says.
This entry was posted on Tuesday, November 26th, 2019 and is filed under
Govt. Agencies
. You can follow any responses to this entry through the
RSS 2.0
feed. You can skip to the end and leave a response. Pinging is currently not allowed.