Three Mylapore Club members launch shuttle academy in R. A. Puram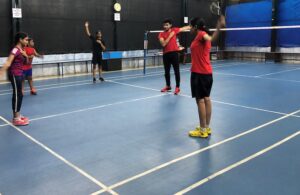 When S. P. Nagarajan was looking for a place where his young son could play shuttle during the pandemic, he reached out to Fire Ball Academy in R. A. Puram,  one of the oldest private shuttle academies in the city.
With the complete lockdown observed in the city, the academy was facing challenges. Nagarajan then had a chat with Captain A. Devarajan and the duo decided that they would take over the academy and run it along with another friend and shuttler  K Raja Rajan.
Thus, when the lockdown restrictions were slowly being lifted, the trio re-launched the academy renaming it as 'Shuttle Kings" Academy ( since each of them had Rajan in their names, they chose 'Kings').
They have recently launched coaching in the age group of 8 – 16years at a monthly fee of Rs. 2500 ( 3 days a week) and Rs. 4000 (5 days a week).
The court is also open for any member of the public who can choose to pay on  an hourly basis or on a monthly basis.
Within the first month of operations, the academy has signed up 40 members and the promoters are confident that more will join. Prime slots are also currently open for shuttlers.
The trio are members of The Mylapore Club in Luz and have been playing together at the club for several years now.
Shuttle Kings Academy is on Bhageerathy Street, R. A. Puram. Contact numbers: 95000 67265/98400 90283.
This entry was posted on Saturday, September 26th, 2020 and is filed under
Community
,
Corona Virus News
,
Sports
. You can follow any responses to this entry through the
RSS 2.0
feed. You can skip to the end and leave a response. Pinging is currently not allowed.