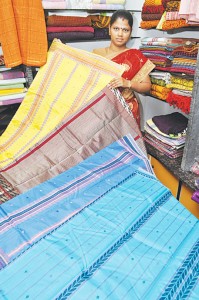 The famed silks from Madhya Pradesh are showcased at a store in Luz
At the medals ceremonies at the recent Commonwealth Games held in Delhi, there were signature stoles that were presented to the medal winners.
These multicoloured woven stoles came from the hinterland of Madhya Pradesh. They were made from the famed Chanderi silks that the region is known for.
Now you can shop for Chanderi silks in your neighbourhood.
Go down to the Mrignayanee store which is located in Luz inside the Housing Board Complex.
The shop sells the famous Chanderi designer saris, materials and ready-mades.
The store is set up by the Madhya Pradesh Govt. Emporium and has various products and clothes from Madhya Pradesh
Chanderi is a place in MP that is famous for Chanderi silk weaving.
"We have a variety of saris, dress materials, stoles, dupattas, readymade tops and kurthas that are made from Chanderi silk, says Mohandass, manager of the Chennai branch.
The saris are priced from Rs.1500 to Rs.9000.
They come in different colours and have unique designs that are made by their inhouse designer, says Mohandass.
Sadly, you cannot buy the stoles that were gifted to the athletes though you can admire one sample hung in a corner of this shop.
The shop is located at M. P. Govt Emporium, TNBH Complex, 180 Luz Church Road (Adjacent to Navasakthi Vinayagar Temple).
Ph: 24985497