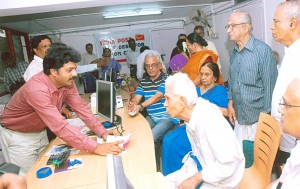 Mylapore Post office has a new counter for senior citizens. This was opened on Oct 1, to mark the International Elder's Day.
R. Venkatraman, SSP, India Post and N. Balachandar, retired police officer were the chief guests for the event.
Govindarajan, Asst. Post Master at Mylapore says that the man at this counter will help seniors with any form of assistance they need at the post office. This includes issues related to savings and pensions.
The special counter for senior citizens will function every day from 10 a.m. to 3 p.m.
The Mylapore Post Office is on Kutchery Road and the phone numbers are – 2464 2805/ 2493 4066.