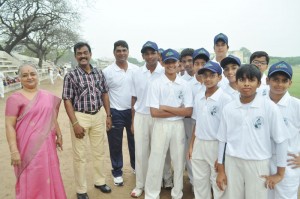 Players of Vidya Mandir's cricket team at the inauguration of the annual Vidya Mandir – Sportstar cricket tourney which began earlier last week.
Matches are being played at the grounds at St. Bede's and at Amir Mahal.
Siva Narayan of Vidya Mandir Senior Sec. School scored 75 in one of the preliminary matches.
In another match M. S. Washington Sundar and S. Lokeshwar scored 61 and 60 respectively.