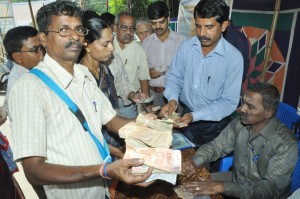 Indian Bank, Mylapore branch had a 'Coins and Cut Notes Exchange Mela' as part of their centenary celebration on January 10 at the branch premises. The function was inaugurated by G. P. Borah, General Manager, Issue Department of Reserve Bank of India.
We exchanged coins of the denomination Rs.5, Rs.2 and Re.1. Fresh notes of denomination of Rs.5 and Rs.10 were also exchanged to the general public, says B. Parthasarathy, Assistant General Manager of this branch.
In addition, 10053 pieces of cut notes and soiled notes were exchanged as per the RBI Guidelines to the customers and non- customers of the Branch, he added.
Most of the customers who came in were retailers. Customers of other branches and banks also made use of this facility, he says.
The bank can be reached at 2464 0289, 2464 1420.