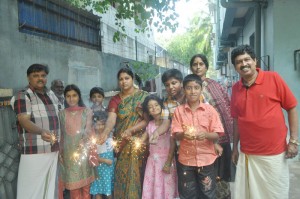 It appears to be a wet Deepavali with the monsoon having set in on Monday.
But families who are set to celebrate this fest are not going to be dampened by the rain.
The residents of Mithila flats in Mandavelipakkam light up sparklers on their campus on the occasion.
Mylapore Times invites you to mail pictures of the great food and snacks you may have prepared and of the fireworks fun in your colony.
Mail to – mytimesedit@gmail.com asap. Caption the pictures too.