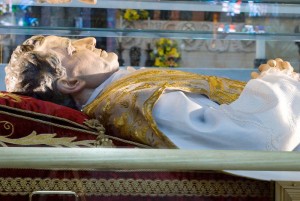 The relic of saint John Bosco is being taken around the world in view of his bi-centenary celebration in 2015.
The relic that consists of the right hand of the saint will arriving on Oct 31 at 7.30 p.m. to St. Bede's Anglo Indian H. S. School. It will remain here till November 1, 10.30 a.m.
The relic is brought in a special van from Italy and 15 Italian citizens, who have been recruited to accompany the relic, will accompany it, says Fr. Gregory, Head Master of St. Bede's School.
The Old Bedean Association will be in-charge of bringing the relic from Don Bosco School, Egmore to San Thome and then taking it to its next destination, a campus  in Basin Bridge, he adds.
Special pandals with tin sheets for the roofing have been erected inside the school campus so that people can pray at the relic even if it rains.
Don Bosco is venerated for addressing the youth who were on the fringe of society. He went on to found a congregation which is commonly known as the Salesians.
The Salesians run many institutions in India, including this city and St. Bede's is one of them.
To read more about John Bosco click here.
Photo courtesy www.catholickey.blogspot.com