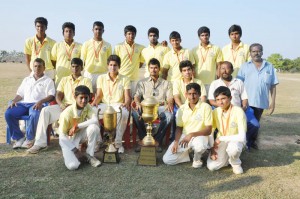 St. Bede's Anglo Indian H. S. School, San Thome won the finals of the TSN under 19, T -20 cricket tournament on Feb.12.
The finals were played between St. Bede's and Government Hr. Sec. School, (Pudur), Ashok Pillar at Agni College of Technology, OMR, Thalambur.
Government Hr. School scored 90 runs all out in 17.2 overs. St. Bede's scored 91 runs in 15 overs with a loss of 2 wickets.
The star of Govt. Hr. School was M. R. Prithivineal. He scored 34 runs.
The St. Bede's School starts were M. Shahrukh Khan with 48 runs, he also took 2 wickets, L. Sathiyanarayanan took 3 wickets with a loss of 10 runs and S. R. Sriee Vignesh Rao took 2 wickets with a loss of 16 runs.
M. Shahrukh Khan was awarded the man of the match and the tournament award. S. Badrinath, India Test cricketer was the chief guest.
The players of St. Bede's team are S. R. Sriee Vignesh Rao, R. Sabarish, L. Sathiayanarayanan, G. Raghavendar Thrivikram, R. Aaravind, S. Ashwinram, R. Raaghul, B. Vasanth, S. Peter, K. Dhileepan, M. Shahrukh Khan, R. Md. Mustafa Sarosh, S. Lokeshwar, V. Danushkumar and M. Affan Khader.
The coaches were N. Sathyanarayana Rao and B. Arumugam.