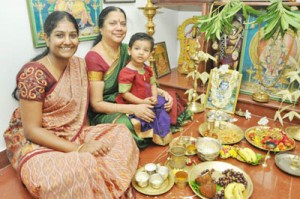 For many Mylaporeans, Sri Krishna Jayanthi calls for a unique celebration and so they did on August 9 evening.
At the entrance of many a house, rice flour-kolam depicting the lotus flower were designed and toranam and mango leaves at the door welcomed guests and relatives.
Small footprints of a child were also drawn on the floor, they led to the pooja mandapam.
The images of Lord Krishna were decorated with flowers, ornaments and garlands.
The Balachanders of Karpagam Avenue (photo above)
Bhajans and shlokas praising Lord Krishna were performed in front of the Lord's image.
Special poojas took place, including the Vigneswara pooja. Krishnaashtakam, Vishnu Sahasranamam and  Krishna Namavali were recited.
Food items included sweet aval payasam, vennai, salt cheedai, sweet cheedai, murukku, milk, curd and fruits like guava, banana, navapalam, and apple.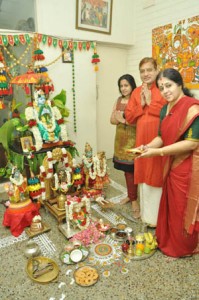 The Ravishankars of CIT Colony (photo above)
Kailash Jayachandran, a tenth standard student, and a resident of Musiri Subramaniam Street, said he helped his family to decorate the images of Govardhana Krishna and Vennai Krishna. At Jayachandrans place, the family created scenes from Krishna's life using images and craftwork.
Shoba Ravishankar, a resident of CIT Colony said " The priest came to our house and special poojas were performed. Our neighbours joined us. There were lots of kids. They sang bhajans. After the pooja we distributed thambulams to the guests. At night we keept some food items behind and some lights on, at the pooja mandapam in the belief that Lord Krishna would come."  The family created a simple kolu-like display of Krishna at various stages of his life.
Soundari Ramesh, a homemaker and a resident of Thyagarajapuram said, "I started preparing for the festival a day in advance. Reciting verses from Narayaneeyam is a must for me."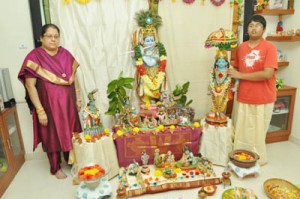 The Jayachandrans of Mylapore (photo above)
N. Ramamoorthy, a resident of Nattu Subrayan Street said, "We performed the pooja as per tradition. We sang the song Kannan varum alagai kanadi. My mother-in-law used to sing this song."
Indu Balaji, a resident of Alwarpet said, "We celebrated the festival with all our family members at our house. Balamukundashtakam and verses from Narayaneeyam narrating Lord Krishna's birth and Krishna leela were recited."
Geetha Balachander, a resident of Karpagam Avenue said, " My father performed the pooja and my son performed the pooja as per his instructions. My daughter-in-law sang in praise of Lord Krishna."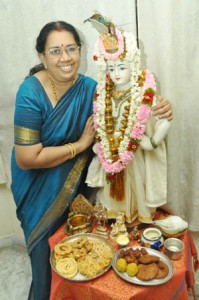 Geetha Deivasigamani of Jeth Nagar (photo left)