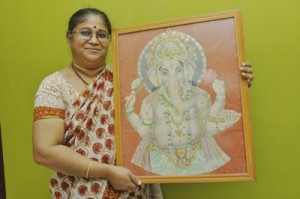 This is the second part of the feature on people who have unique collections of Lord Ganesha.
We started this feature last week, you access the previous file online at the link provided at the end of this report.
The third part of this will be published next week.
Shyamala Srivatsan, 45 years old, is a primary school teacher of Vidya Mandir, Mylapore, and a resident of Kalvivaru Street.
She has a framed image of Ganesha, cut out from a calendar that is decorated with chamki with felt paper as its base.
She made it in 1985. "I call it 'the poor man's Tanjore painting!'. It glitters at night.
My colleague Nallammai had suggested that I collect 108 images when I performed grahapravesam for my house.
So from 2001, I started collecting Ganesha images and now I have 108."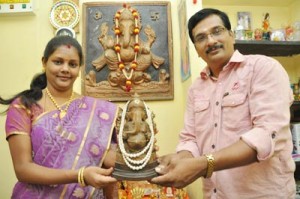 S. V. Ramesh, 42 years old, is the proprietor of Sree Janaki and Co., a home appliances services company, and a resident of Abhiramapuram.
He has a sandalwood image weighing one and a half kilograms.
He says "My parents had bought it when we had gone on a tour in 1980s. It is 30 years old. I have another image made of root of erukam plant bought from Pillayarpatti for Rs.300."
These are in addition to 100 and more images in his collection.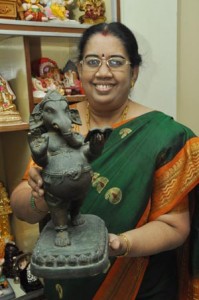 Geetha Deivasigamani is 52 years old and is the CEO of Geetham Matrimonial and is a journalist (Tamil) for Tamil Magazines like Ladies Special. She is a resident of Jeth Nagar, Mandaveli.
She has an image of 35 years old, made of papier mache.
She says "my dad gifted it for my marriage.
He had bought it from Bharathi Arts in Guindy, for Rs.40. This 1.5 feet image was sculpted by Vaidyalinga Aiyya, father-in-law of painting artist Mainiam Selvan."
Along with her husband N. Deivasigamani she had started collecting Ganesha images from 1980.
Recently on his 60th birthday celebrations, he received 60 images as gift. Now, she has 320 pieces.
Sangeeta Shankaran Sumesh (photo below) is working as a Chief Financial Officer in a US MNC and is a resident of Abhiramapuram.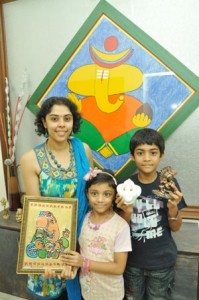 She says "two years back I created a painting on wood using acrylic colours over a night's time. I love its bright colours."
She has around 100 more images that include a metal artefact of a Red Indian, an antique piece depicting Ganesha dancing on the tip of an elephant's trunk elevated to the sky.
It is made of brass and weighs 2kgs and cost her Rs.4000. She has a clay pot engraved with the image. She says that in 1994 she created it with the assistance of a potter at the Egmore museum.
<<To view 'Collection of Lord Ganeshas that people treasure Part-1' click here>>