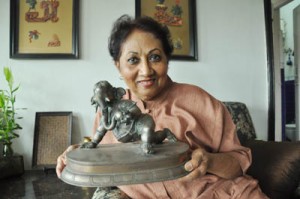 It is that time of the year when we celebrate Lord Ganesha. Lots of people have a special place for this god and some express their adoration in different ways.
Here are a few Mylaporeans who demonstrate a special affection for Lord Ganesha.
Mumtaz Alam, (photo on left) 69 years old, a resident of MRC Nagar, is a cookery and craft teacher.
45 years ago she had bought an image of Ganesha that weighed 10 kilos.
She says it is made of six metals and was sourced at Karaikudi for Rs.300.
She has kept what she calls is the  'crawling baby Ganesha' at home.
Says Mumtaz, "I love Ganesha and I collect Ganesha images when I get the opportunity."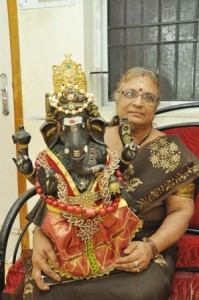 S. Veda (photo on left), 67 years old, is a retired teacher of mathematics and a resident of Chitrakulam North Street, Mylapore.
Her image of Lord Ganesha is made of paper mache and she was gifted this by her friend in the year 1989.
"I received it on the occasion of the kumbhabhishekam of Saniswara Sannadhi at Sri Thulukanatha Amman Temple near St. Mary's Road.
"I used to conduct tuition classes and before their exams started, my students would keep their hall tickets in the trunk of the Ganesha image," she says.
K. Raghunathan, is a retired resident manager of Bhilai Steel Plant, in Chennai and a resident of Greenways Road.
He has around 1500 images of Lord Ganesha neatly stacked in racks in a separate room at his residence.
He has an image made of Peepal tree wood. The image depicts Ganesha resting under a Peepal tree.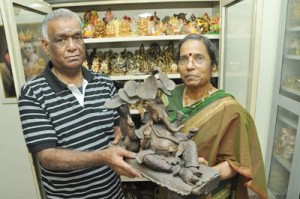 He says "It weighs 4 kilos and we got it from Thailand. My wife likes to collect these images. The smallest image we have is just half an inch tall and is made of soft stone."
He has images made of bamboo roots, mango wood, marble, bronze, brass, ivory, gold, coconut shell, sea shells, terracotta, white teak, granite, mercury, trout fish bone and silver.
He also has unique images like Garuda Vinayagar and the Dragon-slayer vinayagar.
(Photo left: The Raghunathans)
R. K. Murthy,(photo: below) 68 years old, is a retired HRD manager of United India Insurance Company and a resident of Srinivasa Avenue, R. A. Puram.
He has around 250 images of Ganesha.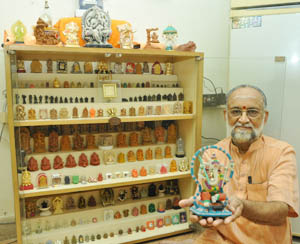 One image weighing 100 grams is made of coloured beads and is 37 years old. It is stuffed with cotton.
He says, "My wife Vasantha Murthy made it in 1975. We also have a framed image which is made of thin aluminium sheet and was gifted to us by our niece on my 60th birthday, seven years ago. She used her nails to carve out the image!"
<<To read 'Collection of Lord Ganeshas that people treasure Part-2' click here>>
<<For video on making of clay Ganesha at V. P. Koil Street, Mylapore click here>>