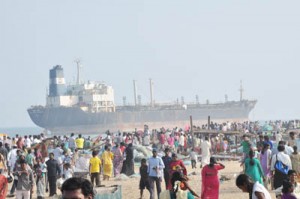 The ship that ran aground in Cyclone Nilam on Wednesday last has now become a giant exhibit on the seas off the east coast.
All through the weekend, as MT Prathiba Cauvery drifted to the waters off Dooming Kuppam and San Thome, hundreds of people walked down to the beach to take a look at it.
On Sunday, the lane that runs to the shore alongside St. Thomas Cathedral in San Thome was choc-a-bloc with people keen to see the ship. Since there was also a steady stream of people headed to the church for Sunday Holy Mass, the lane was packed and police at the main road junction had to be on their toes.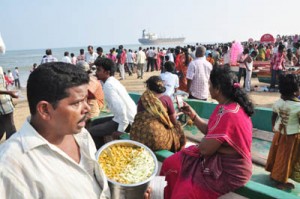 In time, hawkers set up shop on this shore – selling a variety of snacks and making a fast buck.
The ship, which ran aground off Adyar Creek may be taken to the Port area for investigation. It has also been detained by a court order.
Meanwhile, the bodies of 5 seamen reported 'missing' were recovered from various points on the coast, as far as Minjur ( about 35kms from San Thome/Adyar Creek). One engineer died at sea soon after tragedy struck.