Even in the heart of a dense metro neighbourhood like Mylapore, the festival of Pongal took people back to their roots and made space for some unique practices that make this festival.
Bhogi is a time to get rid of old goods; now some Mylaporeans may have  been a tad insensitive and burnt stuff on streets and polluted the atmosphere that Saturday. But some others made a symbolic custom of it  all.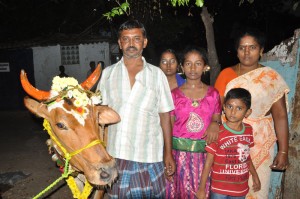 Women created huge, colouful kolams at their doorstep or yard on Pongal eve, some designing these at midnight. The inner streets proudly showed off these works of art.
Even churches here gave the Pongal touch to the morning service and at one campus, had simple traditional games like uri-addi for the kids.
The boom-boom maadu also did the rounds – we spotted one man and his decorated cow in Alamelumangapuram on Monday morning.
Elsewhere, some families cooked pongal at their doorstep the traditional way.  And families who own some cattle also celebrated maatu pongal – like the Muthus in Govindaswamy Nagar. R A Puram.