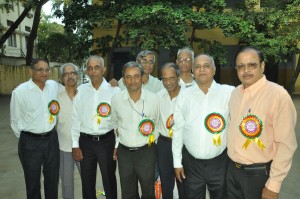 The alumni community of P. S. School is a very large one though it has been loosely-knit all these years.
Of late, golden jubilee alumni groups have been encouraged. Alumni who belonged to a batch which passed out 50 years ago to the year manage to create one campus event and attempt to draw as many as they can.
A few weeks ago, it was the turn of the 1963 batch of the then SSLC group at P. S. School to come together.
About fifty of them were at the campus to chat, attend the formal meeting and meet up with a few teachers who had once taught them and with people who now manage this school. Many alumni came along with their wives. It was a simple event but was memories-driven.
We spoke to three members of the 1963 batch to draw out their memories.
T R SRIRAMAN
My grandfather, Rao Bahadur T G Krishna Iyer, a civil engineer who executed large projects owned many houses on Palace Road ( now called Papanasam Sivan Road). My father T K Radhakrishnan was a music vidwan and was decorated with the Kalaimamani.
The great Carnatic music stalwarts, GNB and Chembai Bhagavathar  were our neighbours.
P. S. School was the only one destination for boys of our generation. I used to walk from San Thome to our school and my passion was cricket. We played numerous matches and tournaments and won lots of prizes. This school encouraged sport, especially cricket. Cricket took me to college ( Govt. Arts) where I was also an active player.
Later, a group of us would coach Mylapore kids at St. Bede's ground whenever it was free.
I went to work for Dunlop and have retired and now live in Virugambakkam.
P R CHIDAMBARAM
Mylapore and Luz were far quiter places in the 1960s than they are today. The lanrdmarks remain as they are – Luz Circle, the temple tank and the mada veedhis. The one big addition to the are was the Universal Temple that was bult inside the campus of Sri Ramakrishna Mutt.
Since P. S. was the school to go to then, our batches were large. I think we had over 200 boys in the 1963 batch.
We did not keep in touch after we passed out. Not formally but now that ties have been renewed for this golden jubilee alumni meet, many of us want to meet more often now.
I was a banker and I now live in Perungudi.
M K SASHISHEKAR
My best personal memories of campus life was being in the NCC and in the Scouts. The on-campus activities and the outstation trips we made were very exciting.
We had an excellent set of teachers. They worked selflessly for our progress and betterment. They gave their all and that impacted on all our lives. You won't find them anywhere today.
Look at our alumni – leading the group are Dr Venkatesh Athreya, a leading economist, V. Subramaniam who became Chief Secretary to the Govt. of West Bengal and Dr Sampath Parthasarathy in the USA.
Now that we have made contact with many batchmates, though only 50 of them attended the meeting we intend to meet often and keep these ties.
I went on to become an engineer and we now live in Nerkundram.