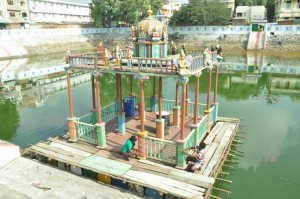 The teppam festival at Sri Adikesava Perumal Temple, Mylapore is to be held from Feb. 9 to 13.
For the past 2 days, there has been hectic activity at the Chitrakulam as workers cleaned the fringes of the tank and put up a series of illuminations on all sides of the tank and around the temple.
The water in the tank has been at a low level and covered with small waste and algae. The string of shops on two sides of the tank take away the beauty of this tank and even allows for locals to throw garbage into it.
The teppam always draws a sizable crowd and may well be the case this time too.
Call 2464 3873 for info.