The spirit of Vishu, the Malayalam new year was distinct in the homes we visited on Sunday in the Mylapore area.
The Mahesh family of Alamelumangapuram celebrated Vishu the traditional way, packing the large heirloom uruli was with fruits, cucumber  and gold jewellery and coins, silverware and currency notes and placing it before a mirror – all done previous night and sighted as soon as they woke up on Sunday morning as part of the vishukkani ritual seeking the grace of prosperity.
Shoba and Ravishankar of 6th Cross Street, CIT Colony had their vishu punyakala celebrations following the vishuk kani tradition. " We make it a point to keep to tradition, " said Shoba.( seen in photo far below)
The vishu sadya meal here included mango and veppampoo pachadi, keerai vadai, sambar, papadom, wheat and milk pradhamam, sambar and more.
Another family that followed the Vishu fest was of  the C P House – P Prajeesh, his mother Chandrika Padmanabhan, his wife Sheena and son Abhinav.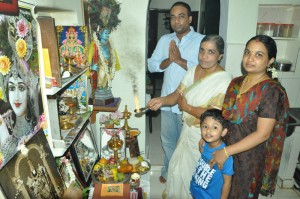 They ( photo on left) reside in Chidambaraswamy 2nd Street and on Sunday, had made a special meal with specials like ghee rice, aviyal chips and adai payasam, sweet appam and kesari.
Elsewhere at the Sri Ayyappa Temple in MRC Nagar, the temple was fully decorated with fruits and vegetables and thoranams. ( first photo)
Also hung all over were packets of pulses and rice to symbolize prayers for prosperity.
Abishekams went on through the mornings and the prasadam served was sakkarai pongal.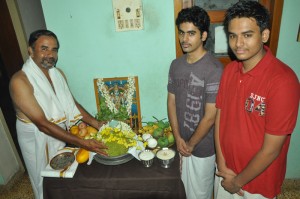 At the Sri Manikandan Temple in Mandaveli Street, flowers and fruits were used to decorate the campus and temple. Annadhanam was done.
The Srirams of Mandaveli ( seen in the photo on left) kept to tradition for Vishu, with Lakshmi using all the flowers in her garden to decorate the puja space and hall.
In contrast, few families celebrated Tamil New Year in the traditional manner. Most visited temples and made an extra sweet for lunch.
But some made the day special.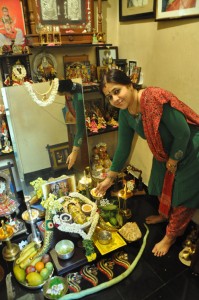 The Suresh Girri family in Chitrakulam East Street had got the panchangam and offered it to god at puja time and then read it out. They made a special meal too.
This is a family of five with Suresh's dad Krishnamurthy, wife Sowmya and their 2 daughters.
The Girris have been residents of Mylapore for 40 years.
The Varasiddhi Vinayaka Temple in East Abiramapuram Street was quite a sight – it was decorated by gurukkul Gopalakrishnan with the fruits and vegetables donated by local residents.
– Report and pictures by R Saravanan
– You too can mail your special celebration photos to be posted here.