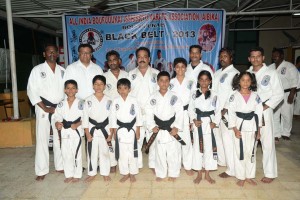 Sundars Boufuuukai isshinryu karate conducted its annual black belt
certification function on May 12 at their Mandaveli
center.
Dr. S. Thiagarajamurthy – chief cardiothoracic surgeon at Billroth
hospitals was the chief guest. He spoke about the
importance of regular exercise and the importance of martial arts like
Karate.
The highlight of the function was the number of young children who
received the black belt certification.
A R Sundar is the chief instructor of the organisation and he has been
in the filed for over 25 years. He is a 6th degree black delt dan
He can be reached at 98400 18628