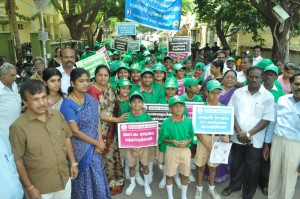 Metrowater organised a short rally on Monday, July 15 to sensitise people to the importance of rainwater harvesting.
The rally, taken out this morning went around the mada veedhis of Mylapore's Sri Kapali Temple.
Students of Sir Sivaswami Kalalaya led the rally. The local ward councillor Rajalakshmi joined the rally. Mylapore MLA Rajalakshmi took part in it symbolically, leaving midway.
Rainwater harvesting was made a compulsory facility in all new buildings some time ago and many residents undertook measures on their own.
However, in many places the RWH systems have not been maintained and hence water does not percolate deep down.