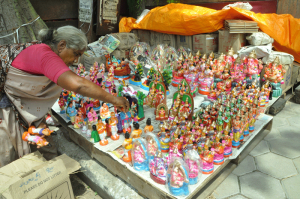 Shops in the Mylapore neighbourhood are setting the scene for the oncoming Navaratri season next month. We spotted a large sale that opened at the Sankara Hall on TTK Road in Alwarpet.
While the sale offers you everything from Tanjore art to stoneware and beadwork, one corner has been set aside for dolls. Dolls from Andhra Pradesh and West Bengal and Orissa are on display here. A set of large strongly-painted images of goodess Durga caught our eye.
The salesmen are also setting up a display of the dolls outside the hall to catch the eye of shoppers.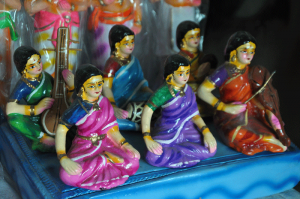 Another good place to shop for dolls is the Sarvodaya Sangh store for khadi goods on R K Mutt Road, oppiste the Sri Kapali Temple tank. A set of Chettiar couples caught the eye. Also eye catching were the sets of Rajasthan folk musicians and another of women artistes at a Carnatic music kutcheri.
The shop manager says he expects more stocks to arrive early next week.
Meanwhile, a few hawkers are unloading their loads of dolls on North Mada Street. This street should be abuzz next weekend.