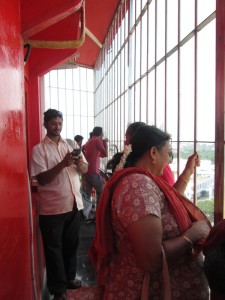 The Light House in San Thome has reopened to the public. Union minister for shipping and ports, G K Vasan did the formal launch this morning and let guests have the first ride to the top and get a great view of the sea, the beach and the San Thome and Mylapore neighbourhoods.
A brand new lift takes you to the top and you get to take the scenes in from the gallery which has been gated so that people do not jump off it or cause an accident. Visits are regulated and kept short since the access to the gallery space via  staircase is narrow.
There is also a smart and small museum at the rear which showcases all the instruments used in lighthouses down the ages, including two 'live' lights.
Adults will be charged Rs.10 and kids, Rs.5 for entry –  there is a break between 1 and 3 pm. A small fee is charged to enter the museum.
Photos and short legends enhance to the information as does the touch screen.
The Light House was closed to the public some 20 years ago when the state faced security issues posed by Sri Lankan militants.
Now, CCTVs and alarms and fire fighting accesories will help the staff tackle emergencies.
Vasan said that his ministry had decided to open many light houses to the public as part of ideas to attract tourists too.
THis Light House is 46 metres tall. And the 4th for this city – the first was inside Fort St George, the second was on the Esplanade, the third atop the High Court building.