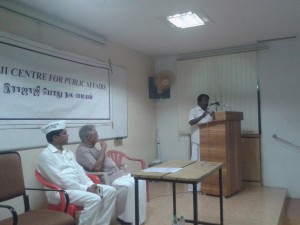 Over 100 people attended a meeting held in Mylapore on Sunday morning organized to listen to the candidates of Chennai South contusing the General Elections due on April 24.
Held at a hall at P. S. High School campus, the audience listened to candidates L. Ganesan of the BJP, Jahir Hussian of AAP and T K S Elangovan of the DMK party.
Ganesan came in early and left to attend to campaign commitments.
Candidates of the other parties did not make it. The AIADMK, the Congress and the Lok Satta have their men in the contest as do a few independents like 'Traffic' Ramaswamy, a social activist.
This meeting was hosted by the Rajaji Centre for Public Affairs.