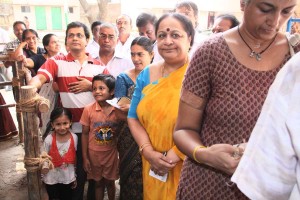 It started briskly and faded much before the close. That is how polling in General Elections 2014 may well be described in the Mylapore neighbourhood. Most parts of this area falls under Chennai South, with a sliver on the west and north under Chennai Central.
When the polling booths opened at 7 a.m. today, there were many people at booths in San Thome, Abhiramapuram and in Luz. Most were people who had gone out for their morning walks; walking up to the booth was simple and easy.
Polling got going briskly but in an hour, there were reports from booths in R A Puram and in San Thome that the EVMs ( voting machines) were malfunctioning; it took time to set them right and due to the delay many women are said to have left the campus at a San Thome School where residents of a large housing colony vote.
The pace kept being brisk through the morning and in areas like KVB Gardens, School View Road and Mandaveli, there was much activity at the tables of the party cadres who were to guide the voters.
This time around, barricades or drop gates were erected on streets/lanes leading to the booths to prevent bikes and cars from going up to the gates. In a way it helped to let people get easy access.
Also present were EC assigned staff who sat outside booths and provided guidance to people. People who had not received the vote slips at their doorstep could cross check at these points. But some people got frustrated when they could not locate their names.
Most Mylaporeans said voting was cool and easy and many decided to get on with the voting before noontime to avoid the rising heat.
But in many booths, there was a steady stream of voters even after noontime. However this dropped by early evening and though the polling was on till 6 p.m. the booths were empty well before that time.
– Photo featured here show senior Congressperson Jayanthi Natarajan in a queue of voters at a booth in Alwarpet on April 24 morning.