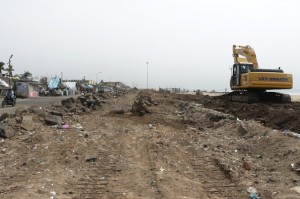 Chennai Corporation has started work on the beachside from the Light House/Nochikuppam end to the Foreshore Estate end. This is part of a project to extend the civic works executed on the Marina through this area.
But civic activists say that this is illegal and contravenes well laid out regulations.
The work began over a week ago and JCB excavators are being used to clear the rubble and sand alongside the road that runs north-south from behind the Light House and fronts the sands.
Civic body officials are not explaining much about the project now that activists have raised serious issues.
Says journalist and activist Nityanand Jayaram, "The law does not prohibit beautification. It only prescribes and proscribes where such projects can be undertaken. The walkway will legally not be an issue if it does not come up within a prohibited area of the Coastal Regulation Zone. In the current instance, the infrastructure is being constructed in the intertidal zone — the area between the low tide line and the High tide Line. The HTL is the line that denotes the extent to which the highest high tide reaches on land in that particular area.
"This area is ecologically and geomorphologically sensitive. Infrastructure constructed here run the risk of damage and harm by the sea. Beautification and modification of the natural features of the beach and the intertidal zone is not a permissible activity under CRZ. So, the activity that is currently being undertaken in Marina is illegal."
A moot issue concerns livelihood of fishermen who use this space to park boats, dry and clean nets, sort out the fish and sell it and the small fish hawking zones that exist here. Activists ask – how will the original residents of this area continue their work when walkways and lawns are laid here?