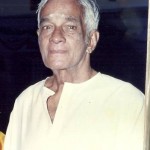 Cavaliere T. M. Naganath, a resident of Mylapore and R. A. Puram for the past 75 years breathed his last on July 28, 2014. A man of various talents, he was an efficient manager, orator, teacher, bhajan singer and enthusiastic sportsman. He was also an adventurous traveler with his excellent English and German skills. An alumnus of Presidency College, Madras, he started his career in the transport department of Simpson Co. Ltd. and joined Air India under J. R. D. Tata in 1947, working with some of the pioneers in Indian civil aviation. Subsequently, in 1958, he joined Alitalia as area manager and retired as regional manager in 1984. He was praised for the magnificent way in which he represented Alitalia Airlines, his dedication, excellent public relations, and managerial, administrative and organizational skills. While in Alitalia, he also served as honorary consul for Italy and was knighted by the president of Italy for his enthusiasm and sense of duty and honesty in carrying out activities with regard to the Italian interests in both the cultural and economic fields.
As a member of Madras Cricket Club (MCC), he was an avid cricket and hockey player in his younger days and as a member of Madras Gymkhana Club, a regular tennis player till he turned 80. He started learning bhajans in 1972 from various teachers in several Indian languages and has given numerous performances throughout India and South Africa. One of his passions was visiting Hindu temples and saints throughout India. As an ardent devotee of Kanchi Kamakoti Peetam, he arranged import of critical medicine through his diplomatic efforts to save the elephant 'Kamakshi' of the mutt. He is fondly remembered by friends as a jovial and vibrant person.
He is survived by his wife, children, grandchildren and great grandchildren. The family resides at R. A. Puram. Ph: 24937316.