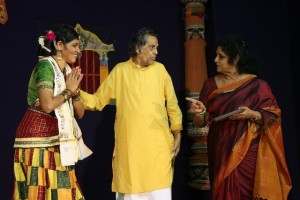 The five day dance drama festival hosted by TN Eyal Isai Nataka Manram based in R A Puram came to an end on Friday evening with the staging of a production on Andal by guru Divyasena and her troupe. Prof. C V Chandrasekar, guru and dancer was a special guest.
The fest was held at Vani Mahal, T. Nagar and Manram heads, Deva and Chitra Visweswaran took turns to be present and felicitate the gurus. On Thursday, R A Puram based dancer-guru Revathi Ramachandran presented ' Thamizharasi Kuravanji'. Guru Narasimhachari was the guest that evening. ( seen in photo)
The productions were funded by the Manram, which falls under the state's Art and Culture Dept. The Manram is based at P S Kumaraswamy Raja Salai, R A Puram.