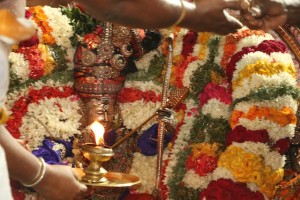 The sun was up, there was stillness in the air and sweat began to trickle down many foreheads of men and women, some 3000 of them who had gathered on East Mada Street to witness the roll of the ther on April 1 morning as part of the Panguni Fest of Sri Kapali Temple.
It took three big efforts to get the iron wheels of the chariot, heavily decorated and carrying the Lord of Mylapore moving. The crowd cheered, gasped, kept silent and then 'Kapali Kapali' rent the air – the chariot had moved out of the shed and in 5minutes rolled in front of the gate of BVB.
Many people quickly dispersed – this is a working day for many, As they scurried they bowed before the chariots of the Ambal, Singaravelar and Chandikeswar.
As sweaty bodies and khaki clad police found refuge or got into Karpagambal Mess for breakfast ( bill for two Rs.180 plus), Narikuravas and nomadic hawkers spread their wares – light pink lotuses fresh from suburban ponds, plastic mallipoo, Bombay bags and the staple beaded-chains.
East Mada Street fell quiet and the excitement grew on South Mada Street. Pandals opened and the first one began to serve sambhar and curd rice; hawkers were assured of food now. Elsewhere, volunteers offered thick buttermilk but people who gulped it dumped the plastic on the street leaving civic workers rot bend twice to clear the waste.
"Tell them to regulate the food dhanam, people waste food and dump it on the street, " said Lakshman Kumar and Suganthi who settled here after a Mumbai stay. They reside at Mundagakanni Amman Koil Street.
As the sun beat mercilessly and the sea breeze remained feeble, the chariot rolled past Sangeetha on South Mada Street and into R K Mutt Road.
It is expected to return to its space in Sannidhi Street by noon, even earlier since the crowds are thin. More people are expected to head to the temple zone after 4 p.m.
Mylapore's mada streets looked a bit like a village in celebration.
Elsewhere, the pandals for water, buttermilk and rice got going. On C V Raman Road, senior citizen 'Maiji' stepped out to launch the panda's service outside the residence of the Muthukrishnans.
Beyond Mylapore, there is as much celebration as there is around the temple zone.